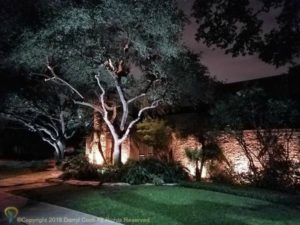 Have you decided to invest in outdoor landscape lighting but now not sure who to trust with the job? The appearance of your home and landscape after outdoor lighting has been installed is dependent on one thing—the landscape lighting design. There are many different companies installing landscape lighting but few have actual experienced lighting designers to create the right design for your home and property.
Landscape Lighting Guru provides experienced, trusted outdoor lighting designes. Our team creates custom solutions that beautifully illuminate and accentuate your landscape and your home. LLGs experts will work closely with you to achieve the best lighting effects possible for your environment.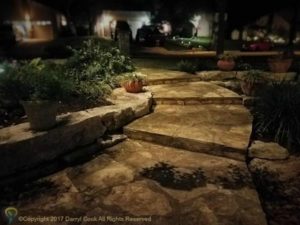 So where do we start?
As we tour your property together, we'll discuss what you want the lighting to accomplish. Is it mainly for safety and security? For accenting your beautiful views of your landscape from the interior of your home? Is it to accentuate your home? Do you have a special sculpture or water feature you want highlighted? Our lighting designers will suggest different ways you can accomplish what you are looking for and give you new ideas to consider. They will then create a fully custom lighting design for your home and property.
With the right design, we can install your custom lighting system that will transform your home. We utilize the highest quality lighting fixtures, materials and installation methods, which are backed with a limited life time manufacturer warranty. This unmatched combination of customer service and expertise will achieve the look and feel that you're looking for—and that your neighbors will be envious of.
If you would like to schedule an appointment with a landscape lighting designer, please give us a call at 210-710-7737 or email us at info@landscapelightingguru.com. We look forward to working with you.
Still not sure? Here are a few recent testimonials that speak to the design element of our work. For more reviews, check out our testimonial page.

"The lights truly are beautiful. Each time I look at them at various times of the evening or morning, I see something new and interesting. Thank you for bringing your gift to us. We enjoyed working with you as well. Thanks for your availability and for your tree climbing crew." ~Carol Stehling
"Thank you very much to all the folks at the Landscape Lighting Guru. Our pool and surrounding areas was awesome during the day…and a dark abyss by night. The LLG team designered an awesome lighting plan and executed the install to perfection. The crew was timely, did great work, was very cordial, and we could not have been more pleased. We even had them re-do the lighting at our home entrance as well. Would highly recommend to all" ~Brent Poss
"We have known Darryl, our "landscape lighting guru," since 2010 when we were looking for help and inspiration for landscape lighting at home. Darryl provided both and did a spectacular job in both front and back yards. The live oaks are particularly dramatic. Many of our neighbors have stopped by to say how much they like the landscape lights! In 2016, we brought the landscape lighting guru back for holiday lighting. We were delighted with the show stopping results – like a festival of lights in our front yard! Even strangers driving by stopped to compliment the lights. If you're looking for a creative eye and beautiful living, you can't do better than the landscape lighting guru." ~Laurie A. Weiss
We service the Texas Hill Country including, Fredericksburg, Boerne, The Dominion, Fair Oaks, San Antonio, Horseshoe Bay, Marble Falls and New Braunfels, Texas.