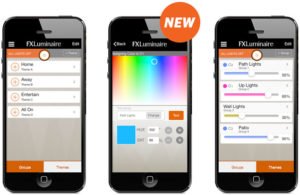 In our last installment of our Preserving the Night Sky series, we are going to discuss the third key feature to consider when designing a dark sky friendly lighting plan – Controls.  Controls are the way that you tell your lights when you want them on and when you don't.  With today's technology, we can control zones or areas of lighting separately right from the palm of your hand.  That's right, you can use an app to control the pool zone, the security zone, the party zone, or the everyday zone.  This way, if you feel nervous about the things that go bump in the night you can turn on the security zone with the touch of a button on your phone.
Lighting Controls can also be as simple as having the right timer installed on your system.  We usually recommend using an astronomical timer that uses a pre-programmed database of times for sunrise and sunset to tell your system when to turn on and off.  All you have to do is tell the timer where you are in the world, the time / date, and when you want your lights to shine.  That's about as easy as it comes – set and forget.  It even gives you an option to automatically adjust for Daylight Savings Time.
Give us a call and we can look at your specific situation and put into practice the right method to take a balanced approach to the lighting of your property.
For more information on one of the smart lighting products we install visit FX Luxor
Related Posts in Series: