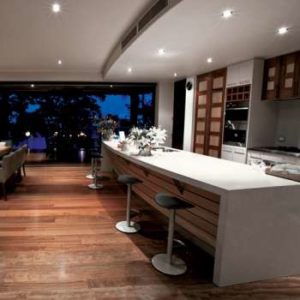 The winter months are a perfect time to focus on indoor lighting.  Consider updating and upgrading inside lighting to be more modern and efficient.  The Guru installs new interior lighting as well as retrofitting current fixtures.
Sometimes all it takes to upgrade a room is to switch from a hanging light fixture to recessed lighting (often referred to as can lighting). Recessed lighting has become more popular over the last decade for many reasons.  Recessed lighting makes a room feel bigger because it actually takes up less visual space in the room. Because the light cans are set into the ceiling itself, nothing hangs down to interrupt the visual space of the ceiling. Another advantage of recessed lighting is its wall washing effect.  The wall washing effect is a great way to cast light on a wall you want to highlight for design reasons such as works of art, fireplace or a bookcase.
Do you already have recessed lighting in your home?  It is likely you still have the normal halogen cans in your ceiling.   A great way to freshen up the lighting in a home is to convert halogen recessed lights to LED. Most people are aware of the cost savings benefit to switching to long-lasting LED.  However, there is even more reason to consider switching to LED when talking about recessed lighting.  There is a huge temperature variance between halogen and LED lamps.  Halogen cans are so hot when the light source is on that they need to vent to the attic to prevent fires.  The picture shows the measurement of heat coming off a halogen recessed fixture.  Another issue with the halogen recessed lighting is when they are off the attic air is venting back into the house.  At this time of year, that means when the lights aren't on, cold air is venting back into your home through the recessed lights.
An LED retrofit makes sense for two reasons.  One is that you use way less energy and you don't heat up your room which is forcing your HVAC system to work harder.
The picture shows the measurement of heat coming off an LED recessed light.  That is a huge difference compared to halogen and depending on how many recessed fixtures you have, it is adding considerable heat to your home while you spending a of money cooling it off in the summer.
Another benefit to an LED Retrofit is that you are not letting your cool air through the vent holes into the attic when they are off. Retrofit LED cans are way better than just swapping to an LED lamp.  When you swap to an LED lamp you are still leaving the vent holes in the existing ceiling can open to the attic.
An LED retrofit gives you piece of mind knowing that the fixture is built for the LED it contains and will give you the best overall lighting and offer the longest life for the fixture.