Well another poor tree that has grown over a ballast box due to lack of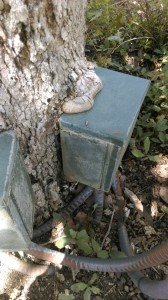 maintenance.  If you have ballast boxes then please understand that they need attention at a minimum once a year.  They need to be backed off the trees to prevent a rot spot from growing on the tree.  Once rot happens this becomes a conduit for pest to get into the tree and eventually rot out the inside of the tree.  If you have ballast boxes, please contact the Landscape Lighting Guru for regular maintenance.  We will back your fixtures, wire, and ballast boxes off the trees, as well as insert 6 month fire ant pest shield to help prevent future damage to your system.
Its to late for this poor tree…we have to do a little tree surgery.  You may be able to greatly reduce the quantity of boxes if you are ready to convert to LED.  We have many different options available to you.  Please call the Guru at 210-710-7737 to find out which option is best for you.