This timer was found at a recent maintenance service call.  The reason it is all ru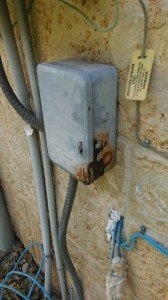 sted and full of pests is because the previous lighting installation company used an interior timer (probably because they are less expensive).  Wet rated timers are a little more expensive, but its the only safe thing to do.
The Landscape Lighting Lighting Guru always uses wet rated electrical components when installing landscape lighting.  Seems like a no-brainer to us.
If your lighting components look anything like this, please give us a call.  We would love to prevent future damage to your system, or even worse a fire due to a short from corrosion.