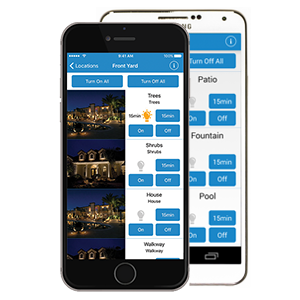 Have you ever wished you could control your landscape lighting, water features, or virtually anything that plugs in with your phone?  You can start creating a smart home with this new home automation system.  The system offers a convenient way to automate your low voltage lighting and other landscape features in an easy-to-install wireless system. Best of all, it is conveniently used with any iOS® or Android™ mobile device.
This technology allows you to turn on security lighting at the press of a button, control pathway lighting for easy nighttime entry and create different ambiance for different occasions.  This technology extends to many other outdoor living spaces controlling fountains, seasonal lighting and other outdoor elements.
This wireless smart home technology can be easily retrofitted with existing lighting installations.  It is compatible with any cord connected to a 120V device.  It includes astronomical timing so it auto adjusts dusk and dawn times based on your location and seasonal changes.
If you would like to learn more about how this system can make your life easier, give us a call at 210-710-7737 for a free consultation.  The following video offers more details about the system as well.