We are only two weeks away from the night when your front porch will have the most traffic it has all year long…trick-or-treaters on Halloween!  With all those neighbors ringing your front door bell, we thought it was a good time to highlight the importance of curb appeal.  Boosting your curb appeal is not only great for resale, but can be something you can enjoy too.  Here are a few quick tips to easily improve your curb appeal.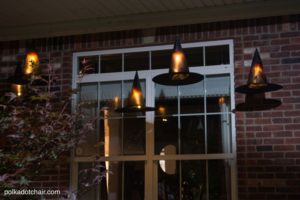 Adding Seasonal Decor
This can be as simple as a wreath on the door and a pumpkin on the stairs for fall.  If you are looking for a Halloween decor for this season, we thought these floating witch hat luminaries at polkadotchair.com looked so cool.  You know we love our lighting!
Speaking of lighting, it has a huge impact on your curb appeal.  Not only that but it provides safety from your guests and security from any unwanted guests.
So where should you start with front yard lighting?  The first place is to look at your front porch.  You should have lighting around your front door. This helps a guest find the front door and it helps you identify a visitor before opening the door.  Lighting around your front door can be as easy as sconces on either side of your front door.  It can also be a chandelier that hangs over the front door space.
Next turn your attention to the pathway between your driveway or street to the front door.  Are there any stairs or steps that need to be lit for safety?  Consider path lights to mark the way for guests and also to highlight your landscaping.  After that, you can turn your attention to up lighting on the facade of your home and down lighting from your trees to make your home really stand out.
Plant some Flowers
You can create an instant garden using decorative pots and seasonal flowers.
Paint the Front Door
Your front door is the first thing people see when coming to your home. Make your house stand out from the rest by painting it in an inviting color that compliments your home.
Adding curb appeal doesn't have to be a big, expensive project.  With just a few small changes, your home's curb appeal could have a big improvement.  At a minimum, do make sure you check the safety of your front porch and make sure your light bulbs haven't burned out.  If you need help or suggestions for adding or changing your outdoor lighting, please give us a call 210-710-7737.