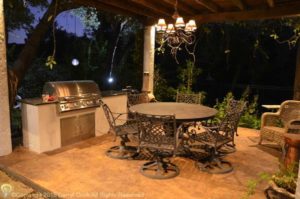 Have you fired up the grill this season and are you prepared for a fun summer of Backyard BBQ's?  We loved the article below from Houzz with 8 great ways to improve your grill setup.  Our favorite tip and the one we wanted to expand on today is the second one – Let there be light focusing on grill lighting. The author jokes, "Did you know that improper lighting accounts for 52 tons of burned meat every year? OK, I made that up, but proper lighting is key for any grilling station, and not just so you can see what you're cooking."  While we agree that the statistic is likely not accounted for, the problem is real folks.  So what is the best way to light your grilling area?
Whether you have an expansive outdoor kitchen or a modest grill area, the right lighting can dramatically change your food preparation, cooking, and dining experience.  The first priority for your outdoor cooking area is lighting the working space. The area needs plenty of lighting, preferably from high above so the light is not in your eyes.  To eliminate shadows and prevent overcooking of foods, use two or more lights from different directions. LED lights should ideally be mounted 10 to 15 feet above the ground and pouring light over each of the cook's shoulder.
If your barbecue is some distance from your table, make certain that you have adequate light to guide you in carrying the food to and from the eating area.  This may not require separate planning since there usually is enough spill light from the two areas.  If you have a larger work space, under-countertop lighting is not only aesthetically pleasing but also functional. It makes finding things in the cabinets or mini fridge a lot easier.
A landscape lighting designer or specialist will have the experience and knowledge to consider safety, security, and beauty when creating a custom lighting design. Some projects are trickier than others and getting a designer involved as you're building or making renovations will prevent any headaches later down the road.  If you need help lighting your San Antonio or Hill Country outdoor grill area, give us a call at 210-710-7737.
Looking for a simpler fix?  Until you are ready to light up your outdoor cooking area, a clip-on grill light will make the job easier in the meantime.  They have different ways to mount to your grill – make sure you check your grill and find the one that would work best.  Also, look for one with a flexible neck on it so you can move it around as you need to.  Last but not least, make sure the grill light is LED so it lasts a long time.  With Father's Day just around the corner, this would make a great gift for the BBQ man in your life!