As the days get warmer, its time to get your outdoor living spaces ready for the hot summer ahead. Create a comfortable outdoor space for you and your guests with these tips: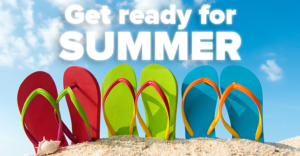 Spruce up the patio for summer
Start the summer off with a fresh start – Clean the porch floor, exterior windows and doors.  A pressure washer can make this task even easier!  If you have porch furniture, clean it off and wash the cushions.  Lay down a fresh doormat, and plant a pot of flowers.
Keep mosquitos away
Having warmer weather and longer days means we're entering mosquito season. Nothing will drive you inside as quickly as getting bit by mosquitoes.  Keep the mosquitoes from biting by installing a mosquito repellent system. Take preventative measures by regularly checking your property for standing water and emptying it.
Set the mood with outdoor lighting
A well lit space not only keeps you safe but also sets the mood.  You don't need a lot of outdoor lights, you just need the right ones in the best locations.  If you already have a lighting system, we recommend an annual checkup to replace any bulbs that are out and redirect the lights based on your landscaping that has grown from last year.
You could also add some fun new lighting to your outdoor living space– we love the look of string lights or these custom designed LED fish basket lights the Guru installed. We designed these fish basket lanterns to hang in the client's trees in the back yard. We love the way they sway in the trees and light up the entire yard.
Keep it Cool
Of course summers in San Antonio and parts of the Hill Country are going to be Hot!   Outdoor fans have come a long way and not only offer some cool air but have great designs too. Landscape Lighting Guru installs outdoor fans and we can help recommend the best type and brand of fan best suited for your home.  One of the brands we recommend, Haiku, offers unique designs that reflect any style.  To top it off, they're smart and energy efficient.
Keep the water running
The best way to prevent costly repairs to your fountain is with routine maintenance.  Our goal in service and inspection is to keep your water feature working as well as on the day it was installed.
Don't have the time for another to-do list?  Landscape Lighting Guru offers top of the line products and services for many of these and would be happy to discuss your outdoor needs. Give us a call at 210-710-7737 to create an outdoor living space that is fabulous!