Choosing a Fire Feature for your Yard
As the cool temperatures reach San Antonio this week, it is a reminder that fall is just around the corner. With a few additions to your patio you can extend your use of your patio to all year round. Adding a fire feature to keep it warm can create a focal point, serves as a place around which to gather, entertain, relax, and enjoy time outdoors.
So what fire feature should you choose? There are several ways to warm up your outdoor space depending on your space and your budget.

Patio Heaters
A patio heater is an easy way to provide instant warmth to your surroundings. These are a great way to heat up your patio with little to no work. Patio heaters come in many different options. One of our favorites is this electric infrared ceiling mounted patio heater. No need to worry about propane tanks and everything is securely mounted.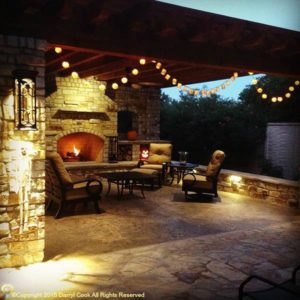 Firepit
Because of their portability, low cost, and ease of use, fire pits have become a popular type of outdoor fire feature. Traditionally designed low to the ground, they can be built or bought in any shape or size and in a variety of materials. There are DIY firepits you can make yourself for $100 to more costly custom fire pits.
Fireplace
If you are looking to create a focal point on your patio and want a permanent structure, a fireplace is a great option. A fireplace can be wood burning or powered by natural gas. These custom, built-in fireplaces will create a cozy gathering place for years to come.
How to Light your Feature
When it comes to outdoor fire places and fire pits, it's easy to think of them as self-producing light sources. While they do put off a certain amount of light all by themselves, this does not necessarily mean that they eliminate the need for light fixtures altogether. A functional light source is important from a safety stand point while also creating ambiance for your patio.
For ambiance around the fire pit, consider keeping the lighting low. Using path lighting and hardscape seat lighting are a great way to make light without sacrificing the campfire ambiance. A separate switched light from above can give you the light you need to start the fire, then turn it off when everything gets going.
For fireplaces that are part of a covered patio, down lighting from the ceiling on to the mantel area really looks nice and can highlight any personal art you are displaying. For standalone outdoor fireplaces consider hardscape lights and well lights installed into the hearth for a dramatic effect, up lighting the fire place as a focal point on the patio looks good all year long. As beautiful as an outdoor fireplace can be they don't produce heat very far from the fire source, so if you have a dining area and a kitchen area as part of your outdoor entertainment space consider infrared heaters over all of the gathering spaces. Infrared heater will do a great job at pumping out heat and are not affected by the wind like propane heaters.