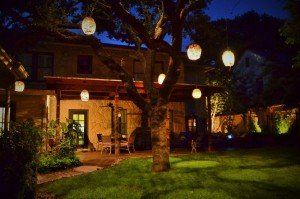 We recently designed custom lanterns for a client using fish baskets.  The baskets were retrofitted to run 120 degree warm Low Voltage LED lamps for all weather safety.
The lanterns hang in this beautiful oak tree casting the most amazing shadow's on the ground and on the tree as they sway in the breeze.
Do you have a custom lamp idea?  Get with the Landscape Lighting Guru to see if we can bring your dreams to reality with custom light fixtures.